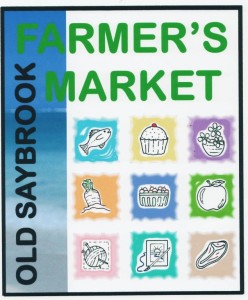 The Old Saybrook Farmer's Market is going into it's 21st year!!!.  We have grown from a market of 2 vendors in 1996, to a market with over 29 vendors today with a vast array of Connecticut products.  We are certified by the Connecticut Department of Agriculture to guarantee you that everything sold at our market is Connecticut Grown or Made.  Our produce is as fresh as you can get – corn picked that day, bread made that day, eggs pulled from the coop that morning, as well as many other handcrafted & picked items!  Please feel free to join us and enjoy the quality, freshness, & fun of our market!!!
We're pleased to introduce you to "The Vendors" at the market!
Art DeMayo from Art's Pastries & Danish, 203-464-2786, located in East Haven, CT.  He will be joining us every Saturday & Wednesday with his delicious line-up of goodies. 
Barb Turnbull and Linda Longo own Barb and Linda's Crafts, 860-398-3734, located in Clinton, CT. They make a variety of handcrafted articles from fabric, yarns and recycled materials. Some examples are: hand quilted lap/wall quilts, baby blankets, adult aprons/bibs, potatoe/corn bags, hand knitted and crocheted hats, fingerless gloves, scarves, totes and more. You can find them at the market on Wednesdays and Saturdays.
Simonne Mularski was born, raised, and currently lives in Middletown, CT.  She's been married for 38 years now, and has 3 daughters and a total of 4 grandchildren.  She ran an in-home Daycare for 30+ years, but now is the full-time owner and baker of Biscotti and Beyond, LLC, 860-301-0825.  The Biscotti and Beyond vision started in 1995, and over the course of the next 15 years she has created and hand-crafted each biscotti flavor until it was perfected.  In 2013, Biscotti and Beyond, LLC was established and officially opened for business.  Simonne enjoys selling her products at craft fairs and farmers markets across the state of Connecticut, and hopes to see you at one of them!  Join them every Saturday & Wednesday at the market.
Glenn Paskiewicz owns Glenn P Art, 860-515-7503, located in Killingworth, CT.  He makes beautiful, hand carved wooden spoons & utensils.  Each one is unique!  He's at the market every Saturday!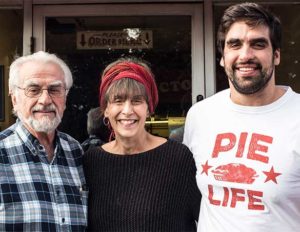 Niko Harovas & his family own Granny's Pie Factory, 860-291-1164,  in East Hartford, CT.  They make over 20 delicious pies right here in CT!  They have a variety of samples every week so stop by and have a taste!  They are at the market every Saturday!
Daren Hall owns Hall's Farm, 860-658-9297, located in Simsbury, CT.  They are a fully organic farm & raise over 125 acres of certified organic produce.  Stop by every Saturday to see them.
June Cassady owns June's Knit Designs & Stuff, 860-690-2784, in Manchester, CT.  June offers handmade wool & recycled items.  You can find June every Wednesday & Saturday.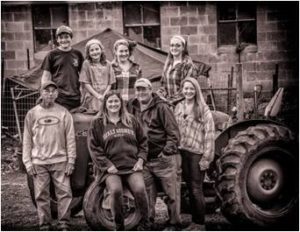 Kevin & Chris Bassette along with their partner, Henry Killam,& 5 kids – Abby, Olivia, Dina, Henry, & Jamie, own Killam & Bassette Farmstead, LLC , 860-833-0095, located in South Glastonbury, CT. Henry, Kevin, Chris and their family, raise fresh, quality fruits & veggies, picked that day or the day before. They also carry their own, farm raised chicken, homemade jams, applesauce, relishes, pickles & herbs, all Connecticut grown/made & all non-GMO. They have 450 happy layer hens and sell their delicious "free range" eggs for your enjoyment and health. Quality produce & customer service is their top priority! They have been running their farm for over 86 years and take great pride in every aspect of it. This is a "Family" run business! You can visit Dina & Steph every Wednesday and Olivia & Carter every Saturday at the market.
Liz & Andrea Meriano own Meriano's Bake Shoppe, 203-215-3348, in Guilford, CT along with their family. They bake delicous Itallian breads, cookies, and pastries. Come and meet Liz & Andrea every Saturday at the Market.
Suzanne Aberg owns Mudjoy Pottery, 860-633-5058, in Glastonbury, CT.  She creates beautiful wheel thrown and hand built functional ware inspired by nature. All work is handmade using brown or white stoneware and accented with repurposed tools and materials to create distinctive designs and textures. Lead free glazes add life and color to create food, dishwasher and microwave safe ware – ready to bring you joy!  She'll be at the market on Saturday, 7/29 & 8/26.
Ann Gamble owns Naturally Gourdgeous, 860-388-0578, in Old Saybrook. She grows organic blueberries, beets, swiss chard, winter squash, gourds and a variety of unique pumpkins.  She also grows, dries and sells gourds for crafting as well as move-in ready gourd birdhouses.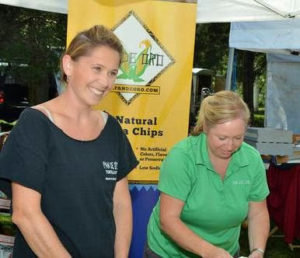 Martha Lucas will be joining us from Pan de Oro, 860-724-7063, Tortilla Chips & Salsa located in Hartford, CT.  They are the largest manufacturer & co-packer of tortilla chips in the northeast. They're chips are all-natural.  They'll be joining us on Wednesday, 6/28, 7/12, 7/26, 8/9, & 8/23.
---
John Shenstone owns Shenstone Gardens, 860-633-2365, located in South Glastonbury, CT. He has fresh, quality produce. Visit John every Saturday & Wednesday at the Market.
Donna Lesczczynski & her family own Soeltl Farm, 860-887-3329, located in Salem, CT.  They started as a family run homestead where they raise good wholesome natural food for their family.  Friends tasted the products they had & loved it so much, they asked if they could purchase some.  Word has spread & they now raise a limited amount of animals a year for those who are choosing healthy & natural raised meat products.
Barbara Gibson owns Super Soups, 203-537-0915, located in Meridan, CT.  She has a fabulous assortment of packaged, dehydrated soup mixes for your tastebuds.  Stop by Saturday's to try a sample.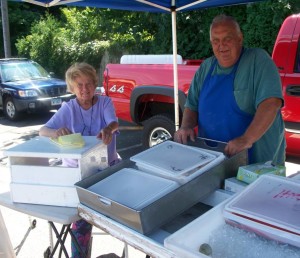 Robert Guzzo owns T.A.L.K. Seafood, 860-535-4422, in North Stonington, CT. He has a vast array of fresh fish for sale every week! You can meet Bob at market every Saturday!
Denise O'Reilly owns The Burnt Shope, 860-805-5699, located in Glastonbury, CT.  She creates unique usable art & starts with high quality wood and glass kitchen & housewares that she uses to etch her freehand designs on.  She takes pride in making ecofriendly products & recycling and reusing 100% of her shipping materials.  She will be at the market on Saturday, 7/15 & 8/12.
---
David Miller & his family own The Olive Oil Factory, 475-235-2481, located in Waterbury, CT.  They work diligently every day to bring strikingly flavorful ingredients in their olive oils to every household.  They adhere to the strictest quality & safety standards.  They are organic certified, kosher certified, & 3rd party audited for food safety.  All of their products are manufactured locally.  They are supporters of many other locally grown, produced, or manufactured foods.  Stop by every Saturday to pick up their wonderful product.
Jen Asbury owns The Spice & Tea Exchange, 860-881-5657, located in Guilford, CT.  They have an exclusive selection of spices, custom blends, loose-leaf teas, naturally-flavored sugars, sea and mineral salts.  They will be guest vending at the market periodically at the market on both Saturday's & Wednesday's.
---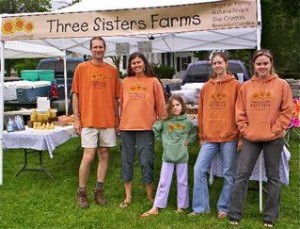 Glenn & Stasia Penkofflidbeck and their three daughters – Nadia, Anastasia, and Kyra, own Three Sisters Farms, 860-767-2866, located in Essex, CT. They have fresh grapes and eggs as well as their own honey. They also make wonderful soaps & lipbalms! You can visit Glenn & Stasia on Saturdays!
Van Ryswyk owns Van's Blackberries, 860-886-0297, located in Norwich, CT.  They have  homemade jellies, jams, & preserves. They also have berries, in season. Visit Van & Donna Wednesdays & Saturdays at the Market.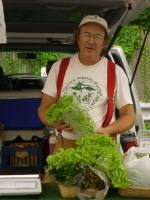 Wayne and Marilyn Hansen own Wayne's Organic Garden, 860-564-7987, located in Oneco, CT. Wayne is a certified organic farmer (since 1989) and carries organic vegetables and herbs. You can visit Wayne every Wednesday at the market!
Orlando Paulino owns Wholly Goat Farm, 860-338-2546, located in Hebron, CT.  Wholly Goat Farm prides themselves on loving all of their animals the same and treating them in the most humane way possible. By doing this it allows them to then use the highest quality ingredients in their soaps and lotions, with the key ingredient being GOAT's milk! Visit Orlando every Wednesday!
Karen & Jeff Woodward own Woodward Greenhouses, 860-455-9315, in Chaplin, CT since 1981. They grow a wide variety of herbs, annuals & perennials, plus one of the largest assortments of succulents in the state. In recent years we have been exploring their creative side by hand-making hypertufa planters and garden art, then combining them with their wide range of succulents to create beautiful & unique planters for your home & yard. You can visit Karen every Saturday.
---
Kerry Lurate owns Woof n' Wheels, 860-989-7527, in Newington, CT.  Kerry has a delicious and nutritious assortment of dog treats for your best friend.  You can find Kerry at the market on Saturday, 7/8, 7/22, 8/5, & 8/19.
---