Kale Pesto (*Farm Favorite*)
1 C. packed kale leaves, stems removed
½ C. packed parsley
½ C. grated Parmesan
2 Cloves garlic
¼ C. toasted pecans
¼ tsp salt
1-2 tsps lemon juice
½-2/3 C. olive oil
8 ounces spaghetti or spaghetti
Combine the kale and pecans in a food chopper or processor and pulse until finely chopped. Add all other ingredients except oil and pulse until coarse paste forms.  Add oil a little at a time until desired consistency is reached.  Cook pasta as directed.  Before draining, dip out about a cup of pasta cooking water and set aside.  Drain pasta and put into a large bowl. Add pesto and ½ cup pasta water. Toss until coated, adding a little more water if necessary.
Farmhouse Omelet
This is a quick go to dish that uses whatever ingredients you may have on hand, or pick up at the market (even eggs from Killam&Bassette). Serve with a bit of the Kale pesto (minus the noodles), and a side salad for a light dinner. Here are some suggested ingredients to get your creativity flowing:
A combination of vegetables such as summer squash, tomatoes, onions, peppers, mushrooms, green onions – all chopped to similar size for cooking quickly.
A few tablespoons of vegetable oil
diced potatoes, leftover or raw, about 1/2 a large per person
Cubed meat such as leftover steak, sausage, bacon or ham, equivalent to 2 sausage links per person
Eggs, 2 per person
Milk, about a tablespoon per egg
Herbs of choice such as basil, thyme or an italian seasoning blend
Salt and pepper to taste (if using sausage, use salt sparingly)
Shredded cheese as desired such as cheddar, mozzarella or parmesan
Heat oven to 350 degrees. I make this in a cast iron skillet of the right size for the number of servings from a 7″ to a 18," but any heavy duty non-stick broiler-proof skillet will work. To begin, in a large bowl, whisk the eggs, milk, salt and pepper until well mixed. Saute any sausage or uncooked meat on medium heat until cooked through and a little browned in an oiled skillet. Take the meat out of the pan and set aside. In the same pan, saute vegetables that take the longest to cook, adding oil if needed – such as onions, peppers and potatoes if raw. Cook until softened. Add in the other vegetables you have chosen and cook until all are softened and slightly browned, add the meat back to the skillet. Remove the pan from the heat, pour the egg mixture over the meat/vegetable mixture. Bake until set and not jiggly. Add a few slices of fresh tomato to the top if desired, sprinkle with cheese and put the pan under the broiler until the cheese is melted and slightly browned. Let rest for a few minutes, slice into wedges, and serve. 
Visit Wayne's Organic Garden, Shenstone Gardens or Killam & Bassette Farmstead for the eggs and vegetables to use in these recipes. (photo shown without cheese).
---
Stuffed Patty-Pan Squash
Ingredients
6 Medium Patty Pan Squash
1/2 C. Diced Onion
6 Slices Killam & Bassette Bacon
Salt & Pepper
1/4 C. Parmesan Cheese
1 1/2 C. Bread Crumbs
Directions
Preheat oven to 350 degrees. Bring one inch of water to a boil in a saucepan and add squash. Cover & cook for 10 min. Drain & slice off the top stem of the squash. Carefully scoop out the centers of the squash & save for later. Cook bacon on in the oven & reserve grease. Chop reserved squash & tops & place in a frying pan in bacon grease along with the onion. Remove skillet from heat & stir in breadcrumbs, chopped bacon & parmesan cheese. Season with salt & pepper & stuff squash. Place in a baking dish & cook covered for 15 minutes or until heated through. From Killam & Bassette Farmstead.
---
Gourmet Chevon Burgers:
From StandingStone Farm: Here is a unique twist for hamburgers for your family. Use pasture raised ground chevon for an interesting taste experience. This recipe should make some succulent chevon-burger patties for you and your family to enjoy!
Ingredients
1 lb ground chevon
1 med sweet onion, chopped
1 tsp dried rosemary
1 tsp dried thyme
1 tsp dried cilantro
1 tsp ground cumin
1 tsp sea salt
Black pepper to taste
2 tbsp Dijon mustard
1 tbsp Worcestershire
2 tbsp olive oil
In a medium skillet, heat the oil over medium to high heat.  Add onion, lower the heat, and sauté for about 20 minutes until nicely browned and caramelized. Be careful to not allow onions to stick to skillet. Set aside to cool.  Place the ground chevon in a mixing bowl, mix in the cooled onions, rosemary, thyme, cilantro, cumin, salt, pepper, cumin, mustard, and worcestershire sauce. Shape the ground chevon mixture into 4 to 6 patties. Grill the patties over the hottest part of your grill, turning once, until nicely charred and cooked to your liking, 5-6 minutes per side for medium. When done, serve with your favorite hamburger buns, sliced cheese, fresh lettuce, tomatoes, and your favorite condiment—such as ketchup, mustard, mayonnaise, barbecue, or other sauce.
Ingredients
2 large tomatoes, or 3 to 4 smaller types
4 ounces of fresh mozzarella
Several fresh basil leaves
Splash of balsamic vinegar, red or white
Splash of good olive oil
Salt and pepper to taste
Directions – Slice the tomatoes into thick slices, slice the mozzarella into thin slices, rinse and dry the basil. Alternate tomato slices, basil leaves and mozzarella around a plate, sprinkle additional shredded basil over the top if desired, add salt and pepper to taste, then sprinkle olive oil and vinegar over all. Ready to serve, cold or room temperature. Two appetizer servings.
---
Maple Roast Chicken
Ingredients
1 1/2 TBSP butter, melted
1 whole Cranberry Hill Farm chicken, 4-5 pounds
1/2 tsp kosher salt
1/4 tsp freshly ground black pepper
1/2 tsp dried rosemary
1/4 cup maple syrup
Directions: Place rack on lowest level and preheat oven to 400 degrees F. Melt butter in a small saucepan. Place chicken in a roasting pan and brush butter over breast of chicken. Sprinkle with salt, pepper, and rosemary. Place in oven and baste about every 10 minutes with maple syrup. When you run out of syrup, use pan juices for basting. Roast until tender and the juices run clear when thigh is pierced with a fork and skin is golden brown and crip, about 1 to 1 1/2 hours.
Let stand 10 minutes before carving, serve at once. Serves 3 to 4 people.Note: Save the bones and skin, and the gel that forms underneath your chicken to make stock. Be sure to use every part of your naturally raised family farm chicken for several nutritious meals. (A recent try at this recipe served three adults with leftovers for a chicken-topped salad, and a grilled flatbread sandwich! The stock is in the freezer for future use.)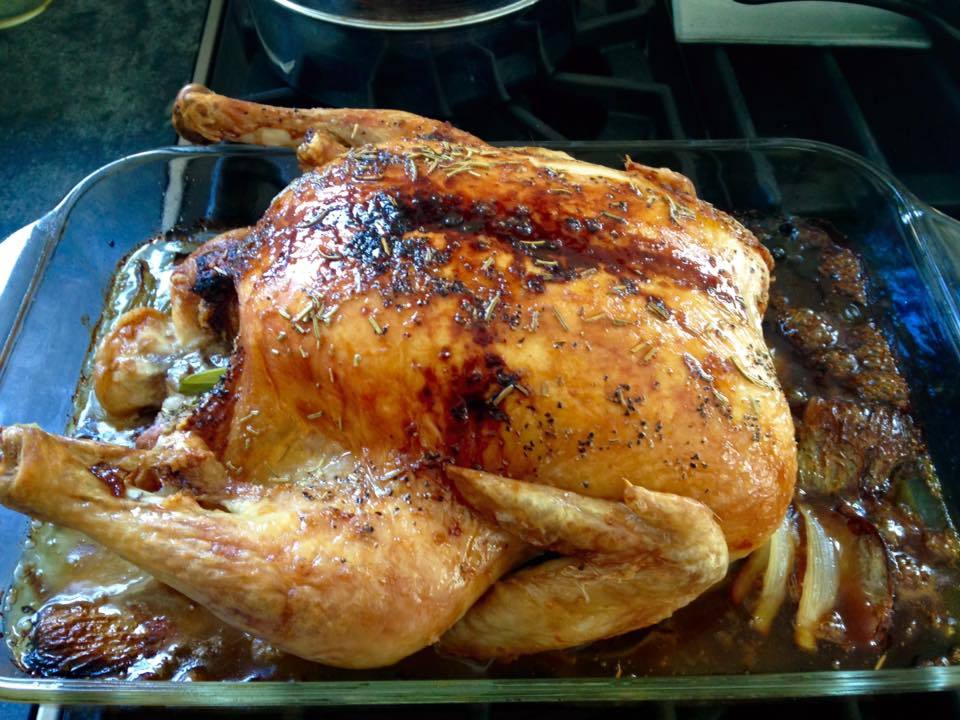 ---
Garlic Scape Pesto
Ingredients
10 Wayne's Organic Garden garlic scapes
1/2 cup skinless almonds or skinless unsalted pistachios
3/4 cup extra virgin olive oil
1/4 cup grated Parmesan cheese
Salt and Pepper to taste
Makes about 2 cupsDirections: Rinse scapes, cut into pieces that fit easily into a food processor, place scapes and nuts into the food processor. Blend for 30 seconds, or until mostly smooth. Scrape down sides of bowl. Slowly add olive oil while the processor is running, and process until thoroughly blended, about 15 seconds. Add the Parmesan cheese, salt, and pepper, blend for another 5 seconds. If you are using salted pistachios, don't add salt until tasting at the end. Pesto is ready to eat fresh, but is even better chilled for several hours or overnight, tightly covered, taste and adjust seasonings before using. Use pesto as a dip, spread on toasted baguette, over vegetables or over pasta.
---
Grilled Corn and Tomato Salad
Ingredients
1 tablespoon olive oil, plus more for grates
3 ears Killam & Bassette Farmstead corn, husks and silk removed
Tomatoes – any color or size, about 2 cups worth, halved or cut into 1/2-inch pieces – (shop our vendors for a selection of cool tomatoes)
2 scallions, thinly sliced
1 to 2 tablespoons balsamic vinegar (red or white)
Sprinkle of dried basil, or 3 tbsp fresh, shredded
1/2 cup crumbled fresh mozzarella, or feta (optional)
Coarse salt and ground pepper
Directions: Heat grill to high; lightly oil grates. Place corn on grill. Cover, and cook, turning occasionally, until tender and slightly charred, 8 to 10 minutes. When cool enough to handle, cut off tip of one ear of corn, and stand in a wide bowl (to catch the kernels). With a sharp knife, carefully slice downward. Repeat with remaining corn. To bowl, add tomato, scallions, vinegar, and oil. Season with salt and pepper; toss to combine. Add cheese, if using, and garnish with whole basil leaves if desired, just before serving. Best at room temperature, and benefits from standing to combine flavors. Note: This is a very versatile recipe, add some summer squash, cucumber, sweet or hot peppers, or whatever tempts you at the market. Sweet, fresh corn is the star, but always willing to share the limelight!
Blueberries add a sweet-tart burst of goodness when used fresh from the market, just as they come. Pies, breads, jams, pancakes, muffins and cobblers are all great traditional ways to bake with berries. You can find some recipes for these treats on our website. Here are some of our favorite ways to enjoy blueberries at their peak:
Sprinkle on oatmeal
Add to plain yogurt with walnuts and a drizzle of honey
Punch up a salad with a handful tossed on top
Heat with honey and cinnamon for an ice cream sauce, or to top grilled peaches
Make a berry smoothie with a handful added to almond or regular milk with a little honey
Mash a few in a glass with fresh basil and mint, then add lemon/lime soda or seltzer with a dash of sugar and a few ice cubes, and maybe a splash of something stronger for the grownups.
This is, of course, assuming there are any left after eating them by the handful…..
---
Parsley Kale and Berry Smoothie
Ingredients
1/2 cup (packed) flat-leaf parsley (leaves and stems)
4 kale leaves (center ribs removed)
1 cup fresh berries
1 banana (cut into pieces)
1 teaspoon chia seeds
Ice cube or a little crushed ice
Directions: Purée all ingredients plus 1 cup water in a blender until smooth. Add a little water if too thick. Serves 2. (adapted from Epicurious.com)
---
Kale Pesto
Ingredients
2 cups packed torn kale leaves, stems removed
1 cup packed fresh basil leaves
1 teaspoon sea salt
1/4 cup extra virgin olive oil
1/4 cup toasted walnuts
4 cloves garlic, chopped
1/2 cup grated Parmesan cheese
Directions
In a food processor, combine the kale leaves, basil leaves, and salt. Pulse 10 to 12 times, until the kale leaves are finely chopped. With the motor running, drizzle in the olive oil. Scrape down the sides of the processor. Add the walnuts and garlic and process again, then add the cheese and pulse to combine. Toss with your favorite pasta and serve immediately. Serves about 8. (from Epicurious.com).
---
Lavender Honey Sauce
This sauce brings out the best in crusted fish recipes
2 tablespoons butter
2 tablespoons lavender honey
1 tablespoon fresh lemon juice
Melt butter in a small saucepan over medium heat. Add honey and lemon juice, stirring to combine.
Source: myrecipes.com via Three Sisters Farms
---
Roasted Beet and Goat Cheese Salad
Ingredients
2 large beets, or a bunch of baby beets (use the greens if attached)
1 tbsp olive oil, plus another 3/4 cup if you are making your dressing
2 cups assorted greens, plus beet greens
1/2 cup goat cheese, plain or herbed
1/4 tsp freshly ground black pepper
Salt to taste
1 cup honeyed walnuts, plain walnuts or pecans
1 large sliced peach, pear, apple or a handful of blueberries
Sprinkle of unsalted sunflower seeds (optional)
Bottled balsamic vinaigrette, or make your own!
Directions: For beets, scrub, leave one inch of stem attached (wash and reserve greens) sprinkle with olive oil and wrap in foil. Roast until soft, 1/2 to 1 hour at 350 degrees, depending upon the size of the beet. Let cool, take a paper towel and wipe off the skin. Slice as desired. To make honeyed walnuts: Place 1 cup whole walnuts in a cast iron or heavy skillet, add about 2 TBSP honey and stir over medium heat until the walnuts are coated and there is little liquid in the pan, be careful not to burn the honey, about 3-4 minutes, spread on a plate to cool. Slice fruit and cheese as desired. Place greens in a bowl, or on individual plates, top with beets, fruit and cheese, sprinkle nuts, sunflower seeds if using, salt and freshly ground pepper over all. To make Balsamic Vinaigrette: Combine 1/4 cup balsamic vinegar, 2 teaspoons honey, 1 tbsp chopped garlic, 1/2 tsp salt, and 1/2 tsp freshly ground black pepper until salt is dissolved. Drizzle in 3/4 cup olive oil, stirring constantly, or shake everything together in a covered jar. Serves 4.
---
Coming soon – Our favorite recipes for
Blueberry Pie
Blueberry Muffins
Blueberry Lemon Cake
Blueberry Cobbler